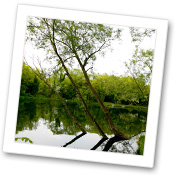 Venture past the parks formal play areas into the tranquil and peaceful 162 hectare Local Nature Reserve (LNR).
LNR designation is significant because to qualify for LNR status, a site must be of importance for wildlife, geology, education or public enjoyment. A LNR offers people special opportunities to study, learn about and simply enjoy the nature and wildlife.
View the importance of LNRs.
This particular LNR is an extensive open green space hosting woodland, heathland, grassland and pools that have developed as a result of the Parks rich industrial past.
Historically, the park was predominantly broadleaved woodland and following heavy land clearance during Saxon times and subsequent land management through the medieval ages, this was converted into a patchwork of arable farmland, grassland and coppices.
By the industrial revolution much of the park contained spoil mounds and quarry pits with isolated remnants of woodland and grassland habitats.
Since the abandonment of industry, the pit mounds and surrounding areas have reverted to heathland and extensive areas of grassland; the quarried areas have become lakes and ponds; and woodland, scrub and hedges have established across the Park as well as alongside the old canal and railway.
This mosaic of habitats now supports a variety of wildlife including birds, invertebrates, amphibians, reptiles, bats and other mammals.
Gardens
The Chelsea Gardens
, originally designed and built to be exhibited at the Chelsea Flower Show, are located in the north of Park. Wander through the Gazebo Garden, the Water Garden and the Summerhouse Garden.
A sensory garden was added in 2014, designed by the Friends of Telford Town Park with assistance from garden designer Teresa Rham.
In 2016 funding was awarded for the restoration of a fountain in the garden. Watch this space for updates.
The Community Gardens
, located within the Chelsea Gardens, is a community run garden with raised planting beds. If you are interested in becoming involved or are a group looking to take on a small manageable space contact the Telford Town Park Visitor Centre on 01952 382 340 or email telfordtownpark@telford.gov.uk.
The Maxell Gardens, created in the style of a Japanese garden to display the gift of Japanese flowering cherry trees, is sponsored by Telford based Japanese company, Maxell.
The blossom of the cherry trees put on a spectacular show in spring. Throughout the rest of the summer the garden is a small oasis to tranquillity with its own carp pool and intriguing oriental style sculptures.