Gardens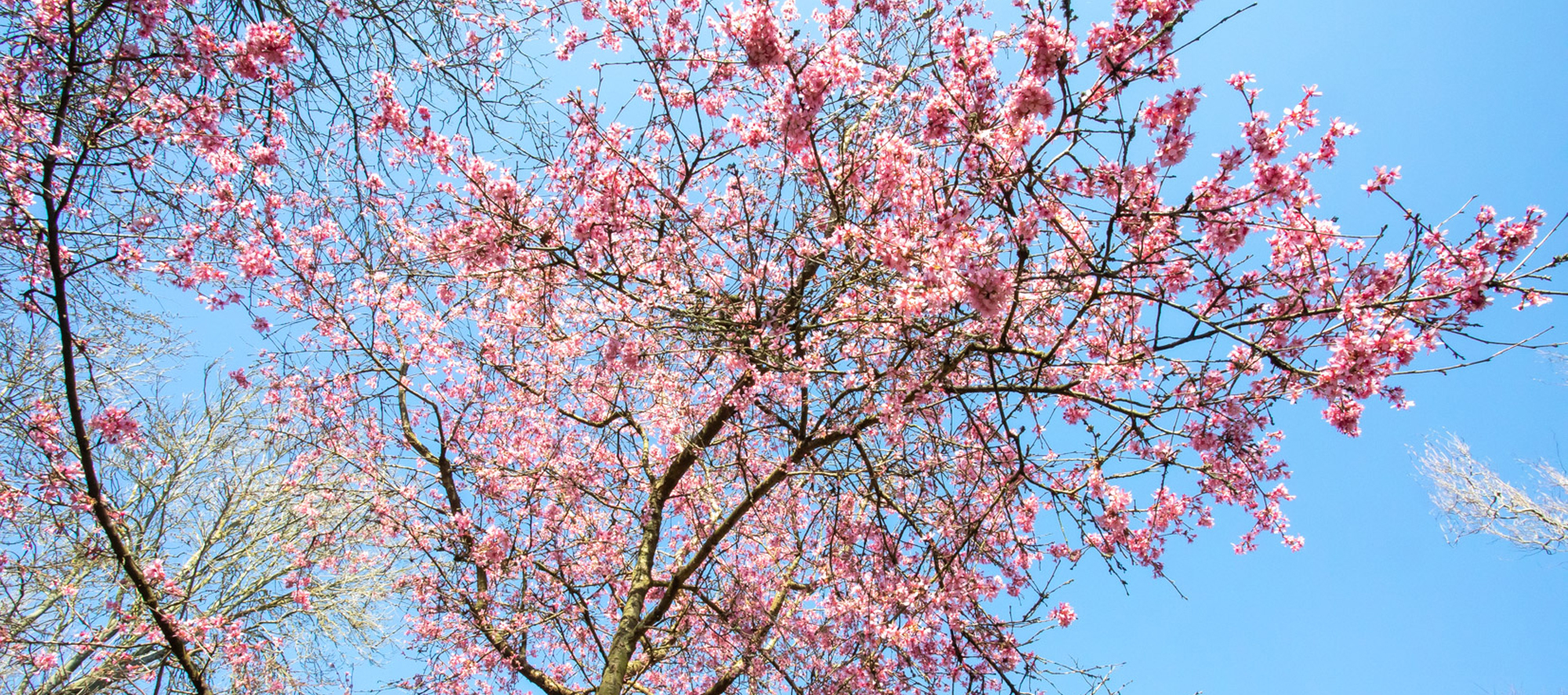 Gardens
With two gardens to choose from, and a varied style in each; take your pick from the Maxell or Chelsea gardens.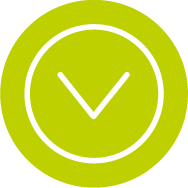 Reopening information
As of Monday 29 March 2021 some of the government restriction rules have changed. However, many restrictions do remain in place. None essential travel can again resume but we ask that that you minimise the number of journeys you make and explore locally where you can.
Maxell and Chelsea Gardens, open daily 10am – 4pm.
Adventure Golf, open daily, please book in advance.
Disc Golf, open daily, please book in advance.
Withy Pool – fishing available. Other pools in the area are operated by clubs. View more information about fishing facilities. Please follow the Angling Trust guidance at all times.
Toilets: Portaloos are open 9am – 4.30pm daily. Visitor Centre toilets are open 10am – 5pm daily.
Collection of golf clubs for pre booked session 11.30am – 3.15pm.
Takeaway and snack hut, open daily (weather permitting).
Sky Reach, open from Friday 2 April 2021, please book in advance.
Water play opens Monday 10 May 2021
To use the water play facilities you must pre-book online only. Book your water play session in advanced now.
Walk-ins on the day are only considered if a session is not fully booked or if someone does not turn up.
The session times below will be adhered to even if those booking/booked on arrive late.
You will need to arrive 'pool ready' as there are strictly no changing, locker or drying facilities on site.
Due to the current social distancing requirements a maximum of 10 people per session are allowed on the water play. This includes a parent supervising a child. The parent will also need to book a place at the time of booking.
There are 6 sessions per day each lasting 30 minutes:

Session 1: 11am – 11.30am
Session 2: 11.45am – 12.15pm
Session 3: 12.30pm – 1pm
Session 4: 1.15pm – 1.45pm
Session 5: 2pm – 2.30pm
Session 6: 2.45pm – 3.15pm.

During the 15 minutes between sessions the team will sanitize touch points, complete water checks and turnaround the groups on each sessions.
Whilst on the pad please abide to 2 metre social distancing.
It is everyone's responsibility not attend if you have COVID-19 symptoms:

a high temperature – this means you feel hot to touch on your chest or back (you do not need to measure your temperature)
a new, continuous cough – this means coughing a lot for more than an hour, or 3 or more coughing episodes in 24 hours (if you usually have a cough, it may be worse than usual)
a loss or change to your sense of smell or taste – this means you've noticed you cannot smell or taste anything, or things smell or taste different to normal.

A test and trace QR code system is in place.
Please be aware that we have toilets on site but there is a one way queue system in place therefore at busy times you may need to wait to access a toilet.
Thank you for your cooperation.
---
Government guidance: Keeping yourself and others safe
Whilst in the Town Park we ask that you adhere to the central government guidance:
you can meet up outdoors with friends and family you do not live with, either:

in a group of up to 6 from any number of households (children of all ages count towards the limit of 6)
in a group of any size from up to two households (each household can include an existing support bubble, if eligible)
you should stay 2 metres apart from anyone who is not in your household or support bubble where possible, or 1 metre with extra precautions in place (such as wearing face coverings) if you cannot stay 2 metres apart.

You should follow the guidance on how to stop the spread of coronavirus at all times, including if you have been vaccinated against COVID-19.
You should follow this guidance in full to limit the transmission of COVID-19. It is underpinned by law.
---
Event update: Tom Jones, Bryan Adams and Olly Murs are coming to Telford Town Park
Tom Jones will play the QEII Area on Friday 3 September 2021.
Bryan Adams will play the QEII Arena on Saturday 3 July 2021.
Olly Murs will play the QEII Arena on Sunday 5 September 2021 .
Visit Tickets Telford for more information and to book tickets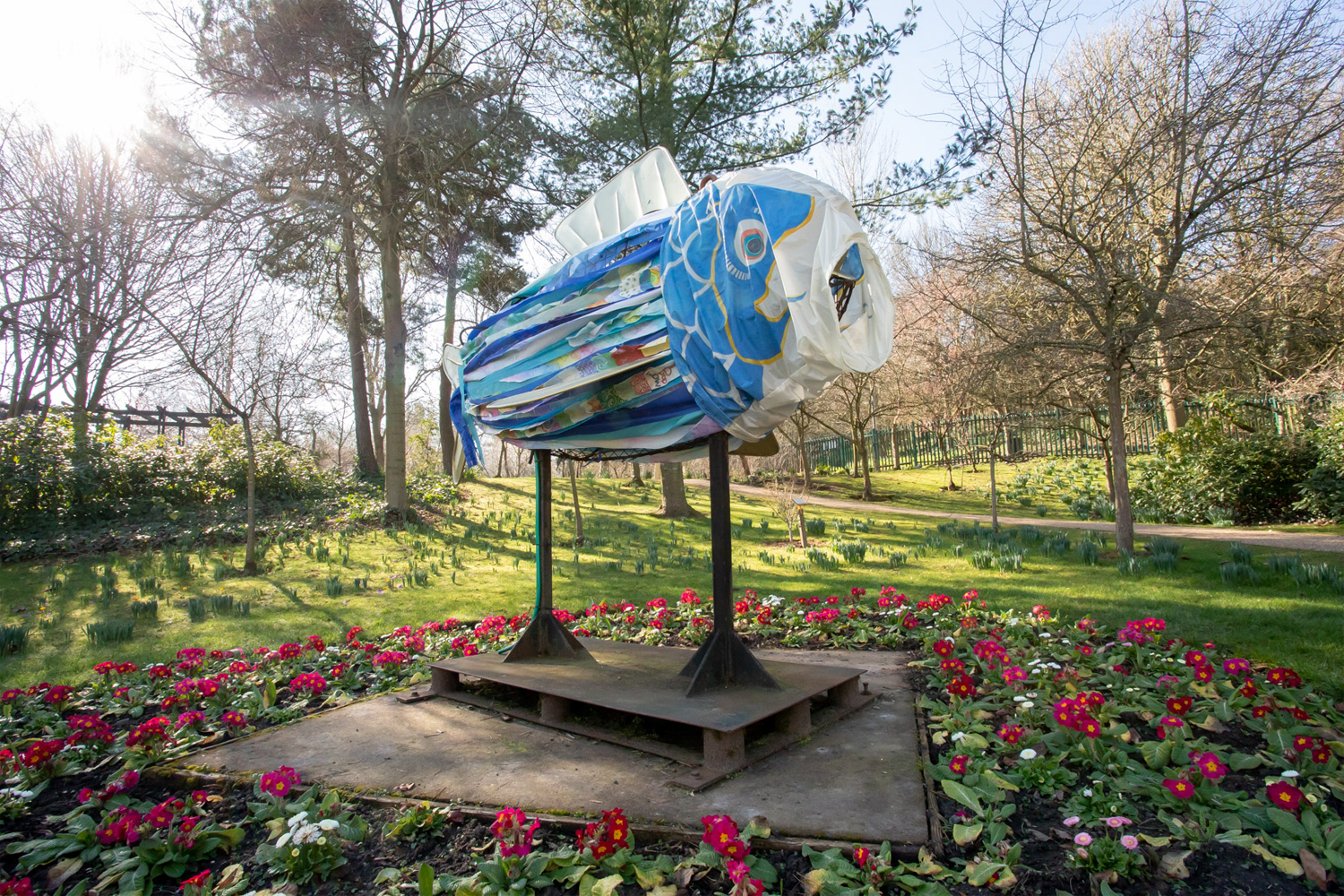 Maxell gardens
The Maxell gardens, created in the style of a Japanese garden to display the gift of Japanese flowering cherry trees, from Telford based Japanese company, Maxell.
The blossom of the cherry trees puts on a spectacular show in spring. Throughout the rest of the summer the garden is a small oasis of tranquillity with its own waterfall and intriguing oriental style sculptures.
The Friends of the Telford Town Park held the first Sakura festival in 2018, that has lead to a new partnership with the Japanese embassy and their Sakura Cherry Tree Project; a celebration for the Japan Olympics to be held in 2021. As a result, the cherry tree planting will expand into the wider Telford Town Park.
Throughout the year, come and enjoy the formal bedding displays and woodland planting seen in the Maxell Gardens. With unusual specimens such as the 'snake bark maple'.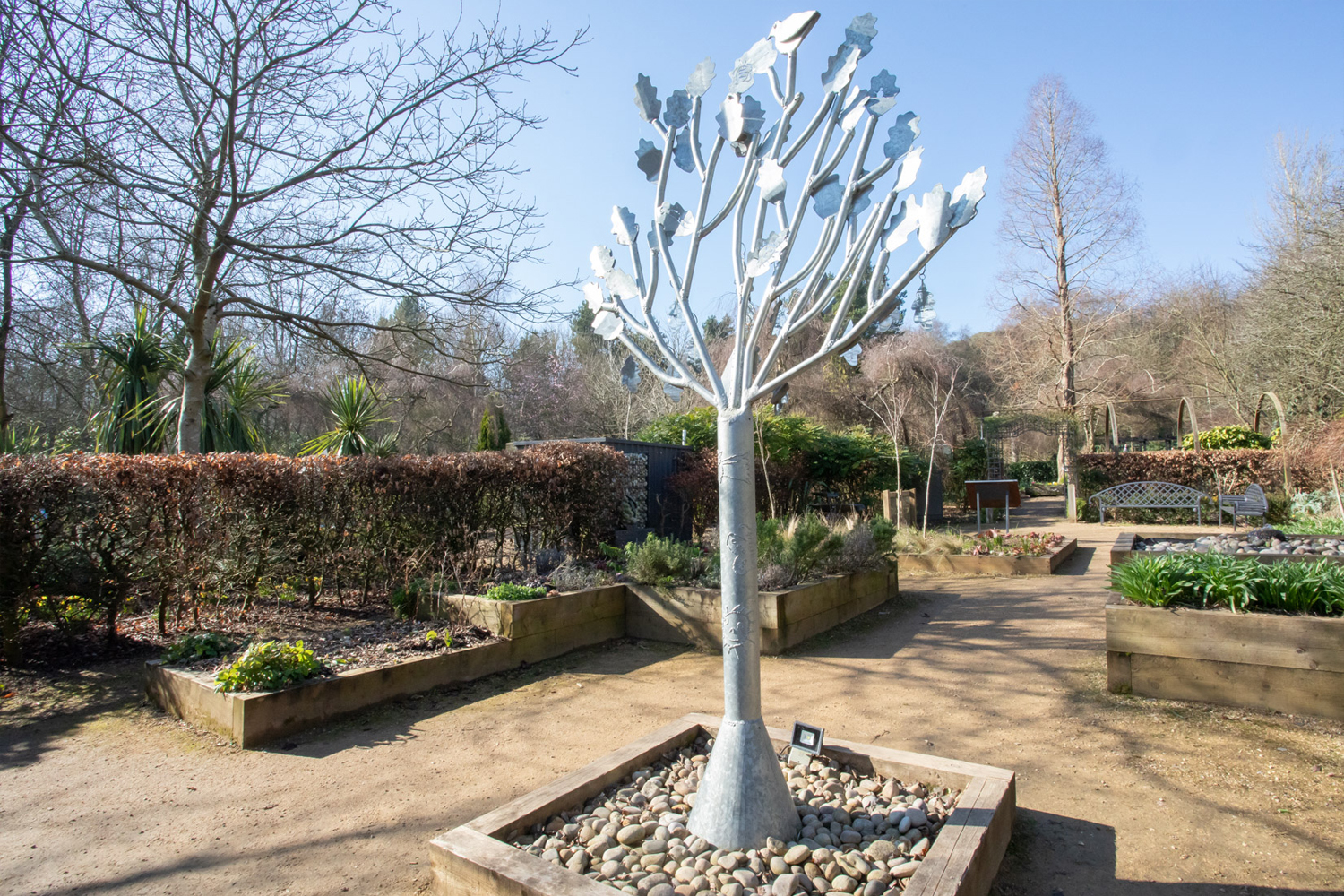 Chelsea gardens
The Chelsea Gardens, originally designed and built to be exhibited at the Chelsea Flower Show, are located in the north of Park. Wander through the Water Garden, Gazebo Garden and the Summerhouse Garden.
The Chelsea gardens present a mix of planting in each garden; spring and summer flowering bulbs, maples, sensory planting and fountains are all to be found here along with plenty of seating.
A sensory garden was added in 2014, designed and maintained by the Friends of Telford Town Park with assistance from garden designer Teresa Rham as part of a lottery funded project. Memorial leaves can be purchased from the Friends to be engraved and placed on the singing ringing tree as a celebration of important things and people in life.
The musical fountain found in the Chelsea Gardens was renovated in 2016 from Suez funding, it now boasts light displays and music.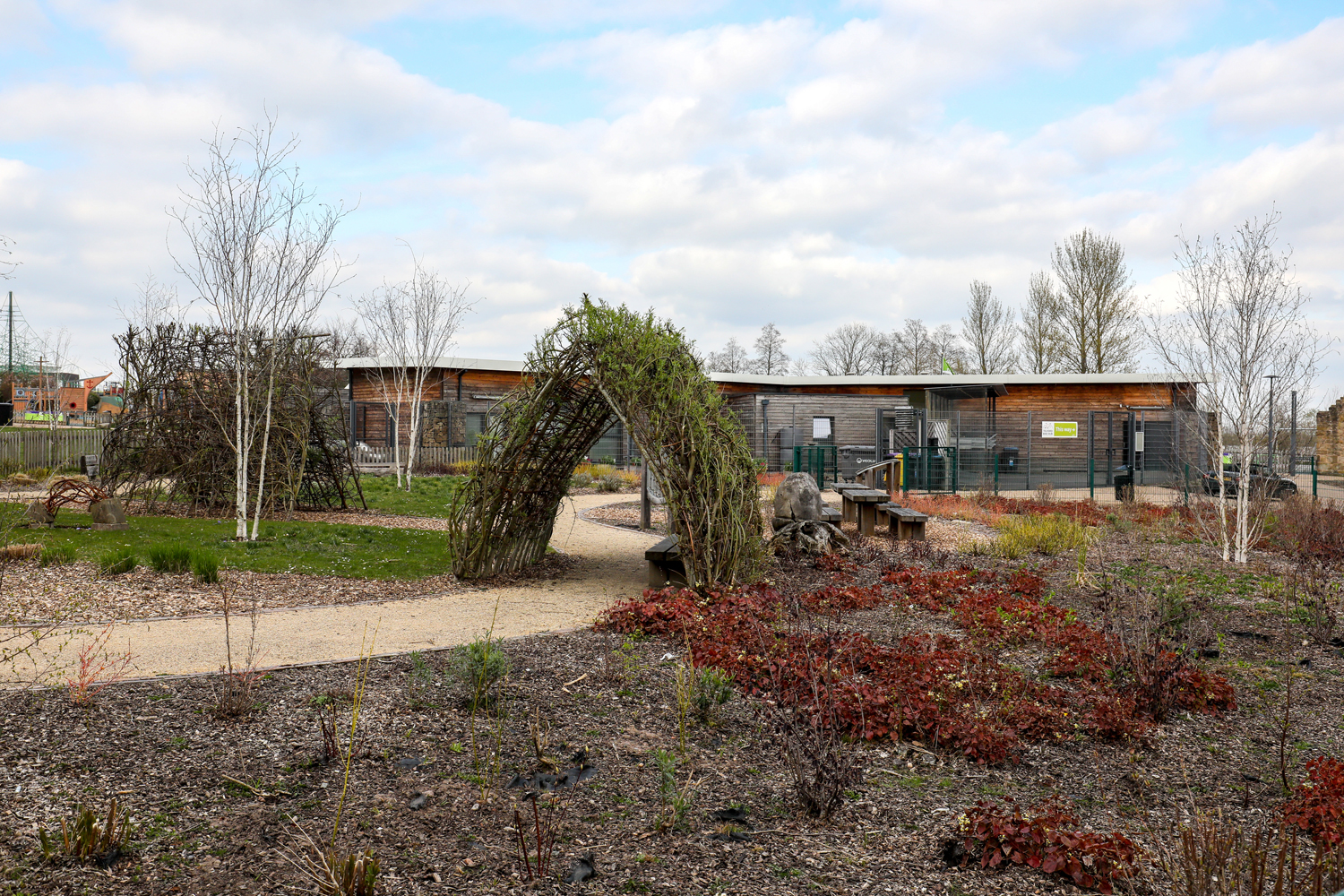 Quiet garden
Located behind the Visitor Centre, does what it says on the tin and is a calm area to escape to from the busy play areas. Seating and musical instruments are at this location. A great location to picnic with planting to compliment contemplation.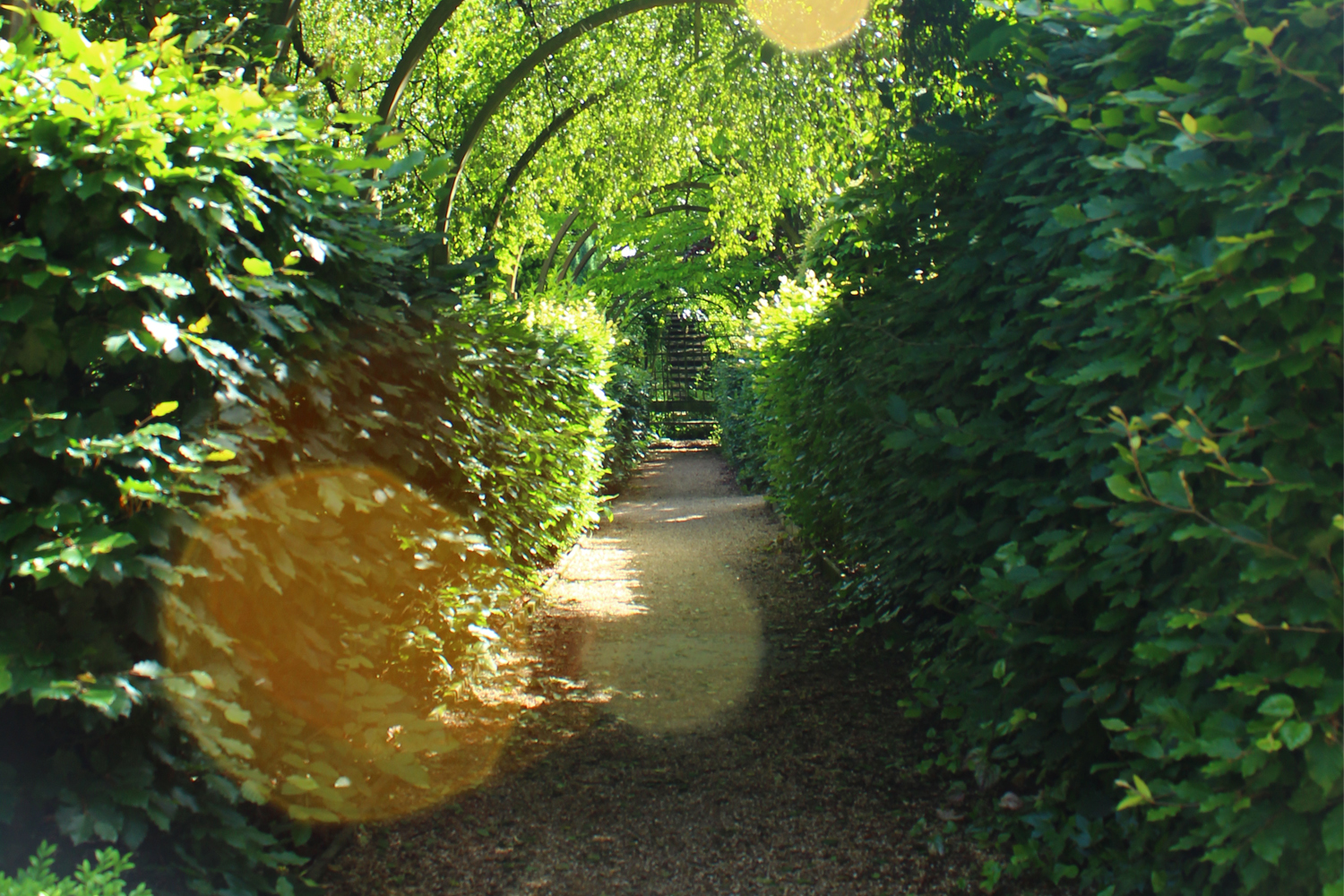 Community gardens
Located within the Chelsea gardens, is a community run garden with raised planting beds. If you are interested in becoming involved or are a group looking to take on a small manageable space contact the Telford Town Park Visitor Centre on 01952 382340 or email telfordtownpark@telford.gov.uk.
2019 has seen the introduction of bee hives to the community garden. This forms part of the wider Telford Town Park bee project, linking to the national pollinator strategy to benefit both wildlife and the community.
Watch out for the Telford Town Park honey hot out of the press coming soon.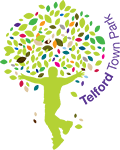 Gardens
Overview and accessibility
Take your pick between two beautiful gardens set in Telford Town Park. Created in the style of a Japanese garden to display the gift of Japanese flowering trees, the Maxell Gardens offer an oriental ambience.
The Chelsea Gardens were originally designed for the Chelsea Flower Show, wander through the gazebo garden, water garden and summerhouse garden. In addition the Friends of Telford Town Park designed and installed the Friends Sensory Garden in 2019.
The Chelsea gardens are also home to a number of sculptures, the family sculpture relocated from Southwater Square during the development, along with the millennium capsule amongst others.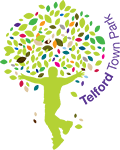 Gardens
Opening times
Chelsea and Maxell Gardens
---
Monday to Sunday - 10am - 4pm.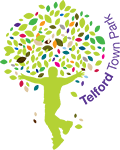 Gardens
Get in touch
Contact us directly from this web site using our feedback form.
Alternatively, you can contact us using the details below:
Telford Town Park Visitor Centre
Telford Town Park
Hinkshay Road
Telford
TF3 4EP